3 Day Vrindavan - Mathura - Barsana Tour
3 Day Vrindavan - Mathura - Barsana Tour
Mathura – Barsana – Vrindavan Tour
Mathura is among the holiest cities in Hinduism. The birthplace of Lord Krishna, the eighth avatar of Lord Vishnu, the God of protection, compassion, love, and tenderness, Mathura is a must-visit place for any devout Hindu. From the Shri Krishna Janamsthan – the birthplace of Lord Krishna to the Dwarkadhish temple, there are many sites for one to cover in the city. However, how can one's trip to one of the holiest places in the Hindu religion be complete if they have not covered the other holistic places on tour? Yes, we are talking about the Gokul, Barsana, Govardhan, and Vrindavan. There are all places related to Krishna and Radha, and everyone on a trip to Mathura should visit them. Each one of these locations has legends that have been told for thousands of years.
The only way one can get an authentic experience of their holistic tour is by opting for a Mathura – Barsana tour package offered by Vrindavan Guides. Do not miss any sites and get a comfortable stay in luxurious hotels. Our Mathura – Barsana – Vrindavan tour package would ensure that you are in for a pleasing experience during your trip to the holy land where Lord Krishna once resided before shifting to Dwarka. You would also get VIP entries into Yagya and Pujas and other facilities during your trip. Our guide will be along with you every step of the way. Do not think for a second more and book a Mathura – Barsana -Vrindavan Tour with Vrindavan Guides today!
Places that will be covered under the Mathura – Barsana -Vrindavan Tour
Shri Krishna Janam Bhoomi
Ramanreti
Chita Haram Temple
Brahamand Ghaat
Chaurasi Khmaba
Old Gokul city
Goverdhan Temple
Radha Kund
Kusum Sarovar
Nand Bhawan
Radha Rani Temple
Rangili Mahal
Banke Bihari Ji
Ranganath Ji Temple
Radharaman Ji
Shah Ji Temple
Nidhivan
Govind Ju
Radhasyam-Sundar Mandir
Radha Damodar Mandir
Mirabal Temple
Kaach Ka Mandir
Gokul Nanda Temple
Prem Mandir
Mata Vaishno Devi
Facilities provided on the Mathura – Barsana -Vrindavan Tour
Night's accommodation in Gokul on Day 1 and Barsana on Day 2
All allowances, including the driver charges, are part of the package. No additional payment needs to be made. Toll charges are also covered.
Sightseeing of the beautiful sites on the Mathura – Barsana -Vrindavan Tour.
Meal on Demand
A guide will be with your every step of the journey.
Entry into the Yagya and Puja
Accommodation for any number of members of the traveling party
Book a Mathura – Barsana -Vrindavan Tour today!
You could not make a better choice than booking a Barsana tour package with Vrindavan Guides. Book a slot for your tour today! And in case you have any queries, we have a customer support helpline you can reach out to at your convenience.
NO ENTRY OF VEHICLE FOR BANKE BIHARI JI, NIDHIVAN & DWARIKADHEESH HIRE E-RICKSHAW AT YOUR OWN COST.
Our drivers are responsible for safe driving with proper knowledge of route / itinerary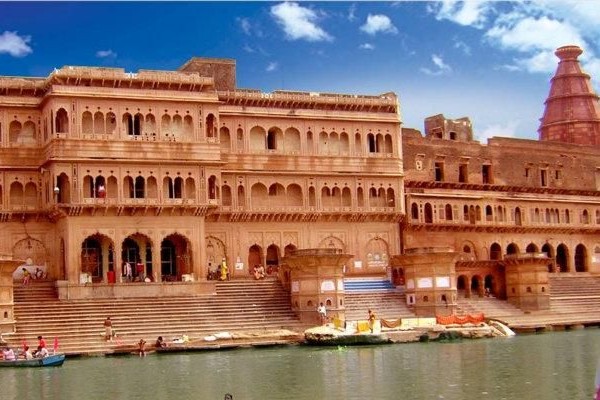 Copyright © 2022. All right reserved by Vrindavan Guides