2 Day Vrindavan - Mathura Tour
2 Day Vrindavan - Mathura Tour
Mathura Vrindavan Tour Package
Day - 1 : Mathura - Vrindavan
Our Driver will come to pick you from Mathura at 7am and will visit Sri Krishna Janmasthan.Then in the afternoon will visit Gokul.
Sightseeing at Gokul Temple In this pastoral region, 10 miles from Mathura, it is said that Lord Krishna was raised in complete privacy by his foster mother Yashoda. It is located along the Yamuna River and gets very crowded during the Krishna Janmashtami and Nandotsav festivities.
Visit Brahammand Ghat and Chaurasi Khamba. Khamba has a lot of Tulsi plant foliage, giving it the nickname "Adi Vrindavan." It draws Vaishnava enthusiasts, who swarm the city for the Van Yatra during the auspicious month of Bhadon, to their religion. Then proceed to Vrindavan where you will stop at Nidhivan, Banke Bihari Ji, Prem Mandir Dinner, and spend the night.
Day - 2 : Goverdhan - Barsana
Following breakfast at your hotel we will arrive in Govardhan and explore Govardhan Parikrama, the temple, Radha Kund, and Dhaan Ghati. Based on the narrative, which is both religious and mythological, devotees travel great distances to Govardhan to perform a 21-kilometer parikrama around the 80-foot hill in order to sweat out their sins and gain good karma.The parikrama begins in Manasi-Ganga Kund and leads to Radha Kund Village, where Vrindavan Road brings pilgrims to the parikrama path, as they make their way to Lord Harideva.
Then proceed to Barsana, visit Rangili mahal and Radha rani temple. In the Mathura district of the Indian state of Uttar Pradesh, there is a historical town and nagar panchayat called Barsana. Radha, the Hindu deity and Krishna's consort, is said to reside at Barsana. It is located in the Braj area. Radha Rani Temple is the town's top tourist destination.
Then travel to Kokilavan after sightseeing in Nandgaon, where you should stop at Nand Bhawan and Shri Charan Pahari Temple.
In the Indian state of Uttar Pradesh's Mathura district is the historic town and nagar panchayat of Nandgaon. Nandgaon is a religious hub in the Braj region close to the state border between Rajasthan and Uttar Pradesh. The distance from Mathura is 55 km, Barsana is 10 km, and Govardhan is 29 km.
After visiting Kokilavan's attractions, proceed to be dropped off at your hotel or train station until 9:00 p.m. for your next destination.
For Banke Bihari Ji, Nidhivan, & Dwarkadheesh,you have to hire an e-rickshaw at your own cost as there will be no vehicle entry.
The following services will be provided on extra payment:
Meal delivery with fees
On-demand transportation with fees
Dedicated sales team with in-depth expertise in the Mathura Vrindavan Tour Package
Yagya or Puja for that particular location
NO ENTRY OF VEHICLE FOR BANKE BIHARI JI, NIDHIVAN & DWARIKADHEESH HIRE E-RICKSHAW AT YOUR OWN COST.
Our drivers are responsible for safe driving with proper knowledge of route / itinerary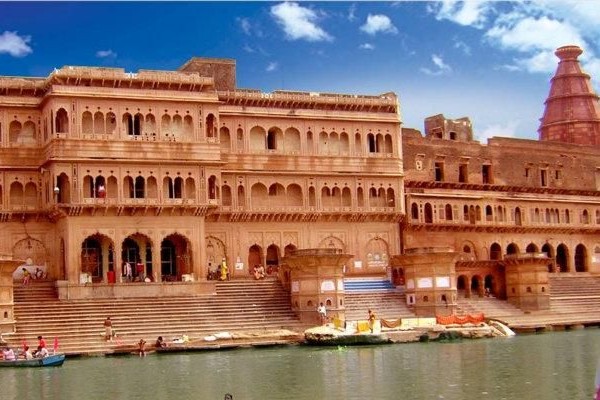 Copyright © 2022. All right reserved by Vrindavan Guides